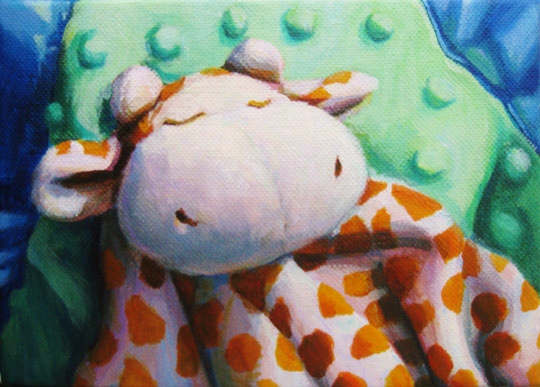 5″x7″ acrylic, 2011. Last year, my neighbor Colleen found me via a local Etsy search and had me paint her daughter Emilia's pink bunny blanket-head. It was close to Christmas when I delivered the portrait, and I felt like Santa Claus pulling my daughter and Colleen's package around town on a sled! She told me then that whenever her baby boy came to attach to a particular toy, she would commission a portrait of his favorite too. As it turns out, Breckin also chose a blanket-head as his favorite, this time a sleepy, funny-faced giraffe. Just as Emilia's bunny did in her portrait, the giraffe blanket reclines on another special blanket, which is amusingly "meta" to me. I'm also honored to have painted Colleen's beloved (real) cat, which I will post tomorrow!
Order a print of this painting:
More info about prints here.