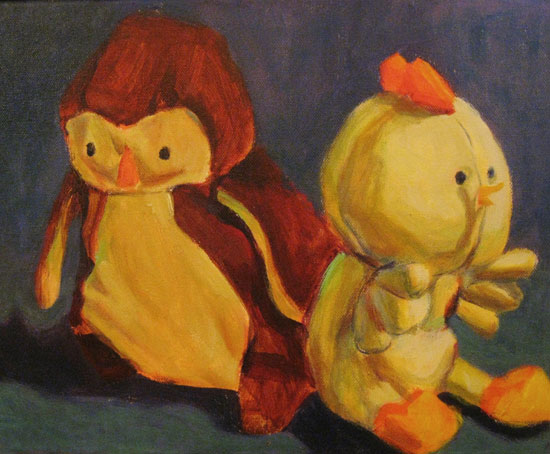 11″x14″ acrylic, 2009. Here's an older sketch of two of Sonja's little favorites. They are each about the size of an adult hand, and she has an assortment of animals about that size lined up along the top of her head board. I will admit that most of them were collected by my husband and myself long before she was born! Choo Choo Chicken was named when we found Sonja chewing on his foot as a baby… so I suppose that, really, we should spell it "Chew Chew?" It occured to me to post it today when I was amazed to stumble upon this post about a lost stuffed chicken identical to Choo Choo. We purchased ours from Target many years ago around Easter time, but I've never seen it anywhere since… hope they're able to find another! Here are pre-Sonja portraits of Choo Choo and Hoo Hoo.
Order a print of this painting:
More info about prints here.