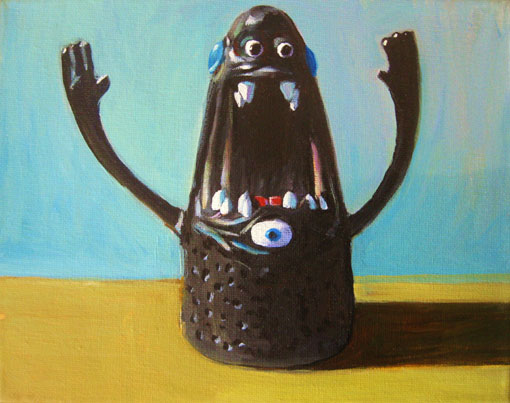 8″x10″ acrylic, 2011. *Sigh* So, you may have noticed that I have already painted this guy, who is the distinguished CEO of I Only Like Monsters. Over a month ago I mailed the original portrait to J, who writes the hilarious posts for Roland's website, and just heard yesterday that it had not yet arrived. So after J and I jostled the USPS from both ends, I franticly re-painted the portrait and had my husband frame it, all in one afternoon. This morning I recieved word that the first portrait suddenly showed up on J's doorstep! I must say that it was actually lots of fun to revisit Roland's funny face and I enjoyed painting him again.
Order a print of this painting:
More info about prints here.