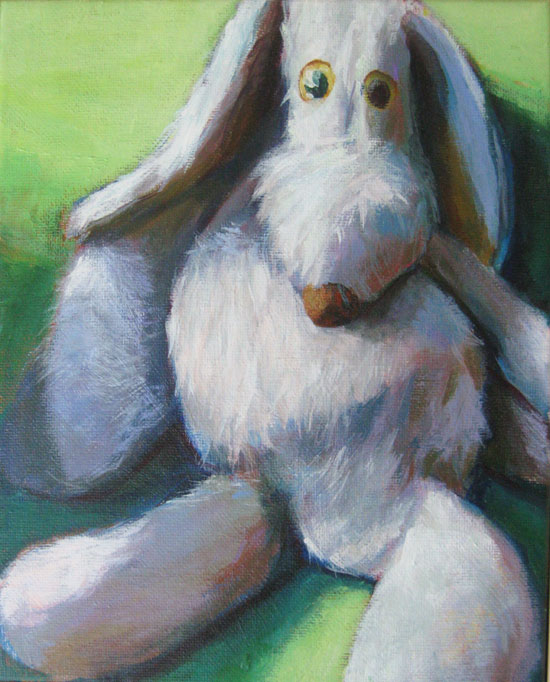 8″x10″ acrylic, 2011. This old soul of a stuffed dog has weathered many washings and mendings and even puppy attacks over the years. He has been at Tim's wife Erin's side ever since it was given to her by her mother when she was six. "Dog" has accompanied Erin on her travels to swim meets throughout the country, and supported her through appenticitis, mono, and bad days at school. To this day, Tim tells me, Erin would not think of going to bed without Dog! This portrait is a gift from Tim for Erin's upcoming birthday.
And Erin would love if you put a picture on your website. Erin's mother bought her this stuffed animal ("dog") when she was six years-old. She has slept with dog every night since then. Dog has provided Erin with support as she dealt with appendictis, bouts with mono and less-than-great days at school. As Erin grew up, dog followed her to swim meets throughout the northeast and then to new cities across the country (Eugene, Oregon; Tucson, Arizona; Boston). Dog has survived repeated washings and re-sewings, as well as attacks by Erin's puppy, Gary. And even to this day, Erin wouldn't think of getting into bed without dog.
Order a print of this painting:
More info about prints here.