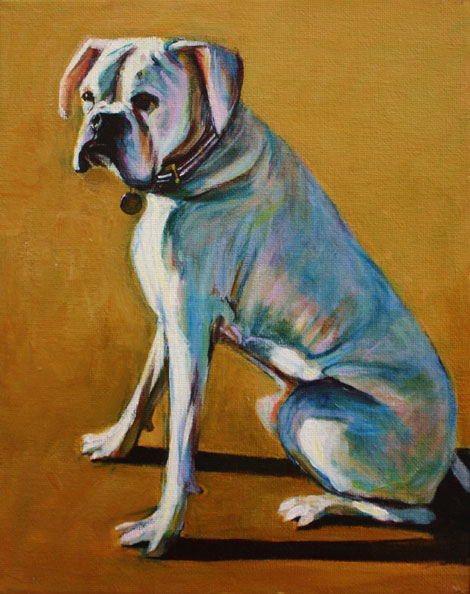 8″x10″ acrylic, 2013.
I was honored to paint this memorial portrait of Toga, a boxer who belonged to Michael and Stephen from 2007 until his passing this past January. Michael shared this history of their beloved dog:
"He was found as a sick and emaciated stray in Philadelphia when he was around 2 years old. From there a Boxer rescue organization found a foster home for him in Malta. That couple nursed him back to health and we adopted him in the summer of 2007 as a companion to a puppy boxer we'd gotten the year before. He was with us for almost 6 years. He was the most strong willed dog I've ever met but also exceptionally loyal, goofy and loving. He spent so many summer days working with me in the front yard that the neighbors came to call him the Mayor of Foxhall (our street). Last year he was diagnosed with a heart condition that we were treating. The picture you painted was taken the day before he passed in January. He had been running around the beach at a home we'd just purchased on Cape Cod. He was healthy and active up until his very last day. That night after we'd returned to NY a valve in his heart failed and he passed quietly. I'm sure that he'll go down as the most unique dog we've ever owned."
This painting was commissioned by Michael as a gift for Stephen's birthday. Michael tells me that Toga was the inspiration for their friend Tim's adoption of Olive the boxer, whose present-day and puppyhood portraits I painted earlier this year!